Last week, one of our readers emailed, asking should their club run a holiday programme.
To paraphrase…
We are setting up a holiday programme this school holidays for young women and girls. We have had some questions asked about the Balance is Better principles and leaving space for other summer sports.
The times we are running the programme are not in conflict with other sports and the programme is for all ages and abilities.
Do you think we would be breaching the principles but doing the programme in these holidays rather than term one holidays?
In this blog, we take a look at some of the advice we provided.
Wrestling with the Balance is Better principles
When it comes to decision making in youth sport, we know not all decisions are straight forward.
The Balance is Better principles were developed to help adults involved in youth sport provide and support the best quality sport experiences for young New Zealanders. In essence, the principles are there to support decision making of adults to help achieve this.
But here's the thing. The principles are there to guide, not prescribe.
That's because we know we could never account for the differences in sports, regions, and people. Whether you are a parent, coach, administrator or sports leader – it's important that your decision making also factors in knowledge about your people, your club or school, your regional, etc. This becomes even more important as the decision gets closer to the coalface (because we should be able to take a more nuanced and informed view about the preferences and needs of the individual young people we support).
We also know, sometimes decisions need to be made in the grey – where there is no obvious answer, or there appears to be pros and cons no matter which way you turn. For example, what should a parent do whose child is aspirational, determined, and wants to go all-in a single sport at an early age?
"Should I run a holiday programme?"
We thought this query was a great example of wrestling with the Balance is Better principles. Entailed below is a summary of the advice we've shared in response.
🌟 Importantly, see if you can think about other scenarios where this advice might apply. Hopefully, by reading below you get a glimpse for how we might wrestle the Balance is Better principles, particular for scenarios those 'grey' scenarios.
Weighing it up
So, to the question at hand – "Should I run a holiday programme?"
How might one work through this decision?
Let's start by assuming, as is the case here, that the intention of the holiday programme is to provide quality sport opportunities for young women and girls. Additionally, upfront its worth recognising that:
The holiday programme is for all abilities
The holiday programme is being delivered by the sport club in its offseason
While it hasn't been discussed, often these types of programme help bring in revenue for clubs or they help clubs to deliver against objectives tied to funding they have received.
With regards to the Balance is Better principles, the key ones relevant here are: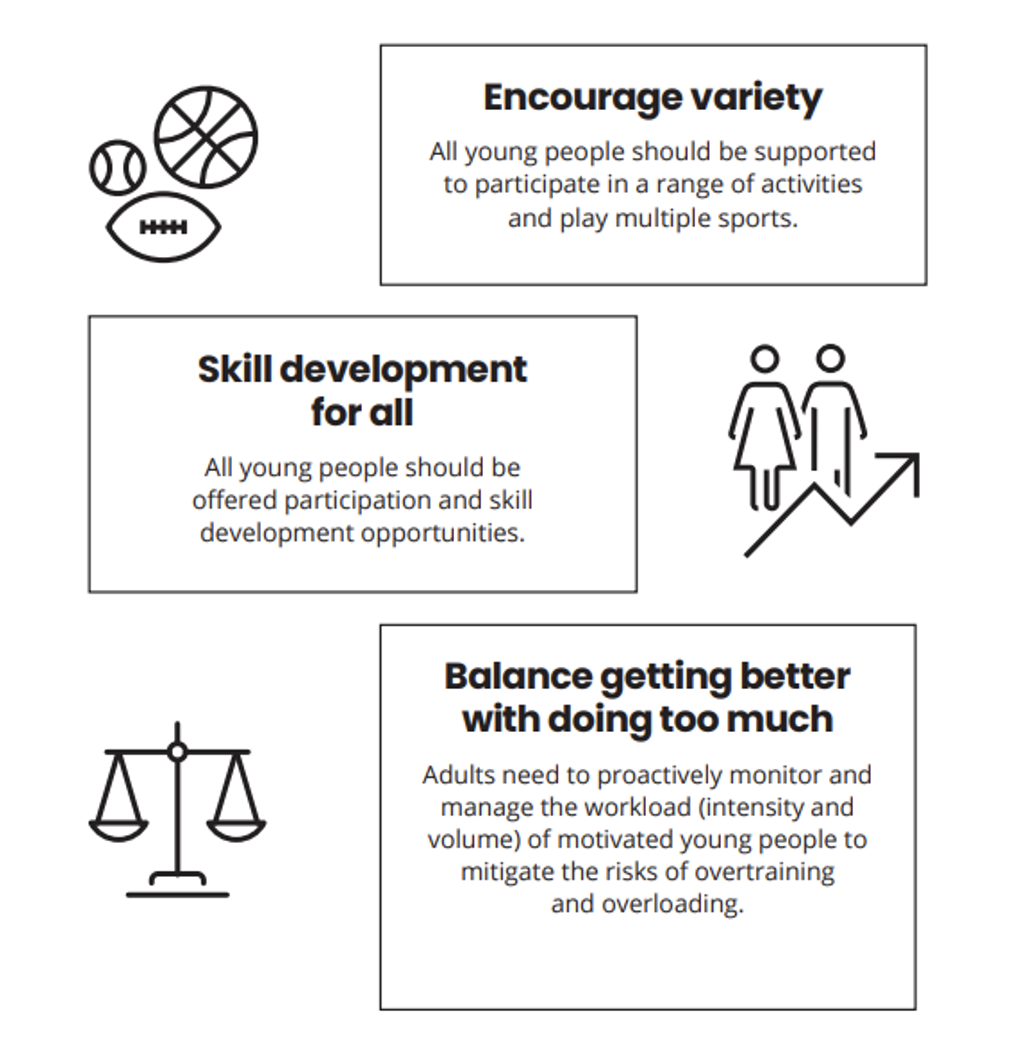 How does the holiday programme align with the Balance is Better principles?
Based on the detail provided by our reader, it sounds like the objective of the holiday programme will support the principle, Skill development for all.
But does the holiday programme align with the principles of Encourage variety and Balance getting better with doing too much?
This question seems to be the crux of the reader's query.
Our view – it's possible that the holiday programme could be delivered in such a way to meet these principles. To get a general understanding on these principles it's worth reading the following:
Read: The value of variety
Read: How much is too much when it comes to youth sport?
Some considerations for this specific scenario, include:
Ensuring the communications of the programme is clear on who the target audience is and what the objectives of the programme are (fun, building relationships, building confidence, etc.).
Potentially looking at targeting the holiday programme at new entrants to the sport (i.e. with no or little playing experience). This could look different depending on different ages.
Designing the programme so it includes a variety of different activities that are not necessarily related to the sport (e.g. yoga, dance, fitness classes, surfing, etc.). One way to achieve this would be to partner with other local clubs and providers.
Seasonality
Sport New Zealand has been supporting regional sport organisations to have collaborative conversations about seasonality, and what it means for their sports. These conversations have been anchored by our Season Transition Guidelines, which were developed in consultation with the sports sector.
A key part of these conversation is about addressing season creep and schedule overlaps between winter and summer sports. Why? Because, this has been shown to negatively impact some participants, and frustrations for coaches, parents and administrators. The importance of seasonality becomes particularly more important as sport becomes more competitive (i.e. the largest issues tend to be around representative, development and performance programmes).
So, what about running a holiday programme in the offseason?
Here, it's worth looking back at the 'why' for the seasonality conversations. To this end, we would ask these types of questions of the holiday programme.
Factoring in who the likely participants are…
Will the holiday programme mean the they forego having a break from a sport when they would really benefit from having one?
Will the holiday programme put scheduling conflict onto them or their family?
Will the holiday programme create any load issues for them?
Will the holiday programme mean the they miss out on other types of activity which would give them a greater variety of movement and development experiences?
Putting the participants at the centre of decision making
Ultimately, making good decisions in youth sport is about putting the youth you are intending on delivering to at the heart of the decision making. Hence, why it's so important to factor in the regional and local contexts into your thinking.
How are you wrestling with the Balance is Better principles?
Photo by Jeffrey F Lin on Unsplash