"Vince has left quite the legacy", says long time Harbour Basketball CEO, John Hunt. Today, as a result of the youth development model Vince set up at Harbour Basketball "attrition in our programme has virtually disappeared" says John.
As evidenced by Harbour Basketball, tinkering with programmes, particularly 'winning' programmes, does not mean trading off the success of a programme as measured by competitive performance, for the growth of a programme, as measured in participant numbers.
Harbour Basketball Officer Vince Minjares says this is probably a bit of a simple take.
Regardless, the unique thing about the Harbour Basketball story, is how the changes made to their youth programme resulted not only in increased participant numbers, and improvements to the quality of the participants' experience, but also allowed the organisation to maintain success as measured by competitive performance on the inter-regional and national stage.
This story speaks to the Balance is Better philosophy, in terms of ensuring more young people get access to quality playing and development experiences regardless of their ability, as well as enabling healthy and appropriate competition.
In fact, just before this conversation with Vince, Harbour Basketball had just come off a bumper season of national and interregional success at age group tournaments. And Vince would claim that the success at these tournaments, while not the highest priority of the basketball programme, was the product of real change.
You can read the key insights obtained through conversations with Vince in the blogs at the bottom of the page.
In this first blog we look at the impact that Vince has had on Harbour Basketball's story between 2018 and 2022.
What challenges did Vince come across on his arrival?
So going back to the start, it's important to recognise that when I arrived at Harbour Basketball, Harbour's not a community where the cupboard was bare, so to speak. There were a lot of kids who wanted to play basketball. There was (and still is) a lot of talent from an RSO perspective. Many great basketball players have gone to the US or represented New Zealand teams.
For me, it wasn't necessarily about developing talented players.
It was more about changing our relationship to the community in terms of the kind of experience our players were having when they came to be part of our programme.
One of the initial things that I observed was some concerns around kids dropping out if they weren't on the A team. That is, B team, C team players, and particularly at under-13s, under-15s, under-17s who felt that if they weren't on the A team, they didn't matter.
We had A teams who won butut we had parents and players who were frustrated because they weren't well coached. They felt they didn't matter if they weren't a top player.
It also felt like we were scratching by every year, struggling to get enough coaches. I think one of the more troubling things that I found early was in our under-13s programme, we had somewhere in the neighbourhood of 10 teams coached by two coaches.
There's something important about having your own team coach. That would later become an important thing for me as a goal for the program. And not just any coach, a coach who believed in a development philosophy and who wanted to see all of their players have a good experience, no matter what level or standing they were at.
There were kids playing. There were teams even winning. But I think past that there was a lot of tension. There were more conversations with parents that felt inflamed by disagreements over where kids sat and where things were at.
And then I also think there were a lot of typical youth basketball sport issues, right. We had a lot of traditional, A, B, C, D E structures.
We had lots of concerns around the way in which basketball players were coached.
We didn't have a cohesive identity – in terms of how we wanted to play basketball, how we wanted to coach kids, and what a good coach even looked like.
Many sports organisations, even those that on the surface may look successful, will recognise some of the challenges that Vince observed upon his arrival at Harbour Basketball:
The stratification of resources, energy and attention based on the ability of groups or individuals (i.e. top age-grade teams getting better experiences, better coaching, better care from their organistion, etc.).
Tensions with parents.
Poor coaching, due to coaches being overextended from taking too many teams, and/or not having enough guidance from the club/school/organisation.
No coherent vision for coaches and players around style of play.
Today, what are the highlights of the Harbour Basketball programme?
Fast forward four years, and despite Covid, basketball in the Harbour region continues to grow. In 2021, Secondary School sport census data showed basketball was the most popular sport in the Harbour Sport region across all secondary-school aged young people.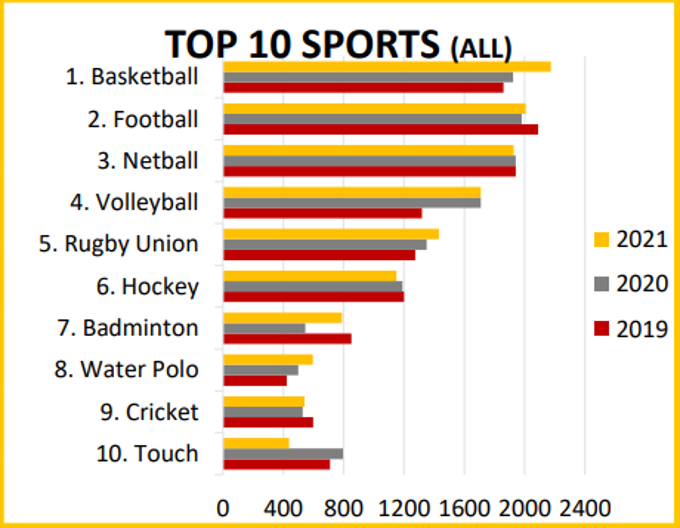 On the changes made, and the impact of those changes, Vince reflected he's "been really lucky, where John Hunt our CEO really believed in a vision that we've developed."
Of the successes of these changes, Vince was able to talk to:
Growth
I think that the last few years, we've developed an identity as an organization in terms of the rep and club programmes. I think those are synonymous with us because rep and club have merged in some respects.
Before, we had a traditional rep model, playing in the Super City competition, sending teams to Nationals. And while we did have development teams, they didn't necessarily feel like they were club teams. But now a lot has changed.
One of the first things we've done is built a club tier, within our program of internal competitions amongst even teams, who effectively play really fun, exciting games on Friday nights in our local competition. Obviously, we do have a tier of teams that do go on and play internally.
We're like any club. We've got challenges. We're not problem-free. But I think, we've got very strong retention. We have a growing and very large programme, somewhere in the vicinity of 45 to 50 teams in any given year. Obviously including our 'rep teams' that attend national tournaments. But the vast majority of our teams are internal club teams who play against each other and do have opportunities to play against neighbouring clubs like Rodney and Hibiscus Coast. We've got a massive programme and we're growing, you know. This year we added a number of girls' teams.
Better relationship with parents and community
I think our relationship with our community has changed. I think it's just less tense, less inflamed, and a more harmonious relationship.
Development of a basketball identity and style of play
I think the quality of our play has now improved. In particular, you know, the style of basketball we play is a fun, enjoyable, and inclusive style. It's creative. The ball is shared. We take good shots. It's smart basketball. It's team-oriented basketball. And I think that we've got to a place where we've been able to find a happy marriage between playing really good basketball and having teams that kids enjoy being on, which means they want to come back again the next year.
Player development
There's also now a clearer coaching philosophy. There's a clearer player development philosophy and style of play.
And then of course we've thought purposefully about facilitating various forms of development for players, whether it be creating obvious pathways, but also just feeling that you've got friendships and mentorship, and that they're growing as a person.
You can never truly know if someone's grown as a person through being in a programme. But I think that we've got a good track record of being focused on helping kids for the future. And that's what our community tells us.
Performance
Some might wonder whether growth would impact the performance of Harbour Basketball's teams in representative competitions, but Vince says that despite the focus on providing a quality experience to more players, "there's still been a very high level of performance".
Even with the growth, we've won a national championship in each of the last two years in the uncer-15 grade. 15 girls this year, 15 girls last year. We routinely send two teams per grade to national tournaments.
I think last year we sent two teams to nationals for 15 girls, 15 boys, 17 girls, 17 boys, 19 boys, and finished top four in each of those grades. So, I don't think we've necessarily sacrificed much in terms of performance, if anything, we've gotten better across the whole programme.
So how did Harbour Basketball bring about this success?
It's important to recognise that the success of Harbour Basketball's programme, as viewed today, didn't just happen overnight. Rather, it was done over years, which tends to be the nature of systems change – it takes time.
The changes made which have contributed to Harbour Basketball's success were underpinned by what Vince would call a climate of development.
More specifically, Vince outlined five key areas that he and Harbour Basketball changed or tweaked to bring about improvements to their programme.
These were:
Determining what quality success means in your programme
Working with parents
Engineering healthy competition in games and trainings
Having a thoughtful systems and structure for divvying players into teams
Creating a playing identity that supports better player development and better coach development
In the following series of articles, we unpack each of these key areas with Vince.
Image Source: Harbour Basketball