Understanding why and how people value golf at different life stages is critical in order for the game to continue to embrace the future and plan effectively to meet the changing needs of participants. In this case study, we hear from Golf NZ on their Golf for Life insights project, and how they use the insights gathered in this project as a starting point to help the golf sector better understand the experiences and needs of participants at different life stages.
This video was recorded at the June 2021 Sport New Zealand – Sport Development Hui.
What is the Golf for Life insights project?
The Golf for Life insights project created a guiding resource to help the golf sector better understand the experiences and needs of participants at different life stages – children, youth, young adults, parents, adults with no children, older adults, and seniors. This resource is a starting point for clubs and other sector stakeholders to think about how they might improve the experiences they provide for the array of different participants they deliver to.


Significantly, the Golf for Life insights project developed a series of different personas at different life stages, highlighting the needs, motivations, and frustrations of these hypothetical participants.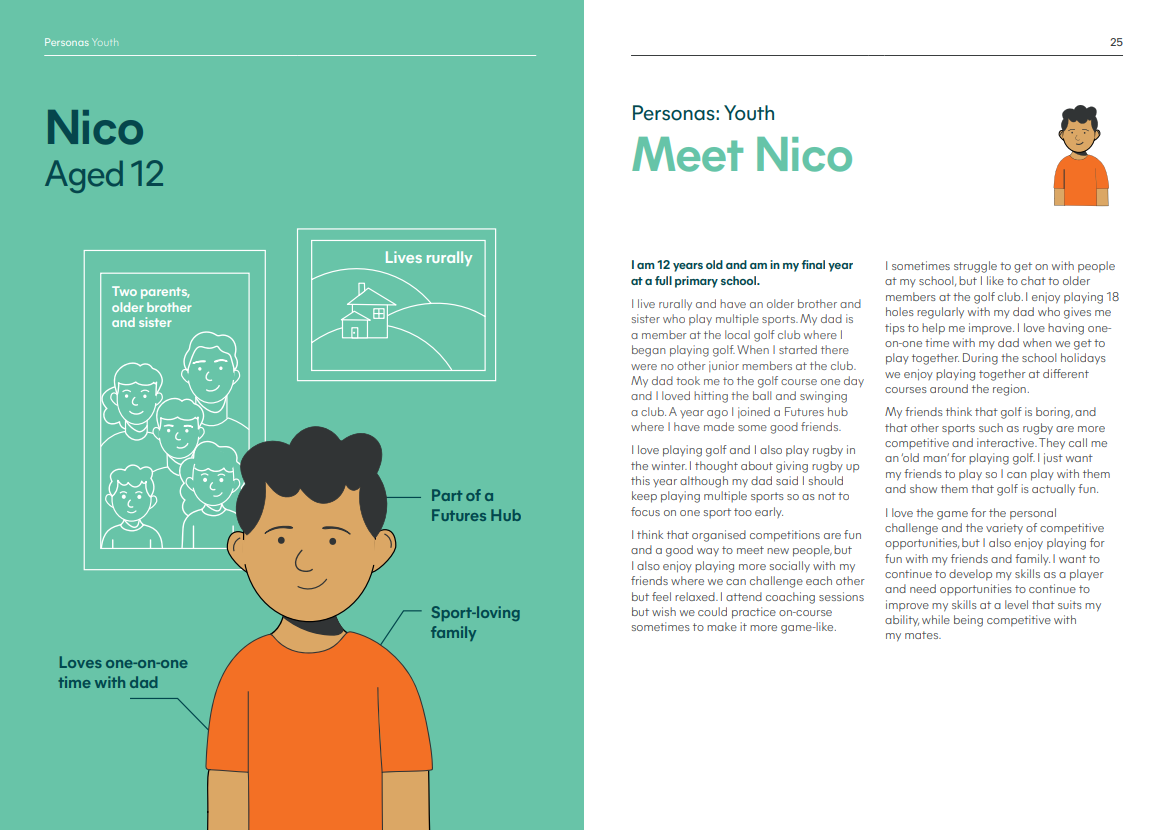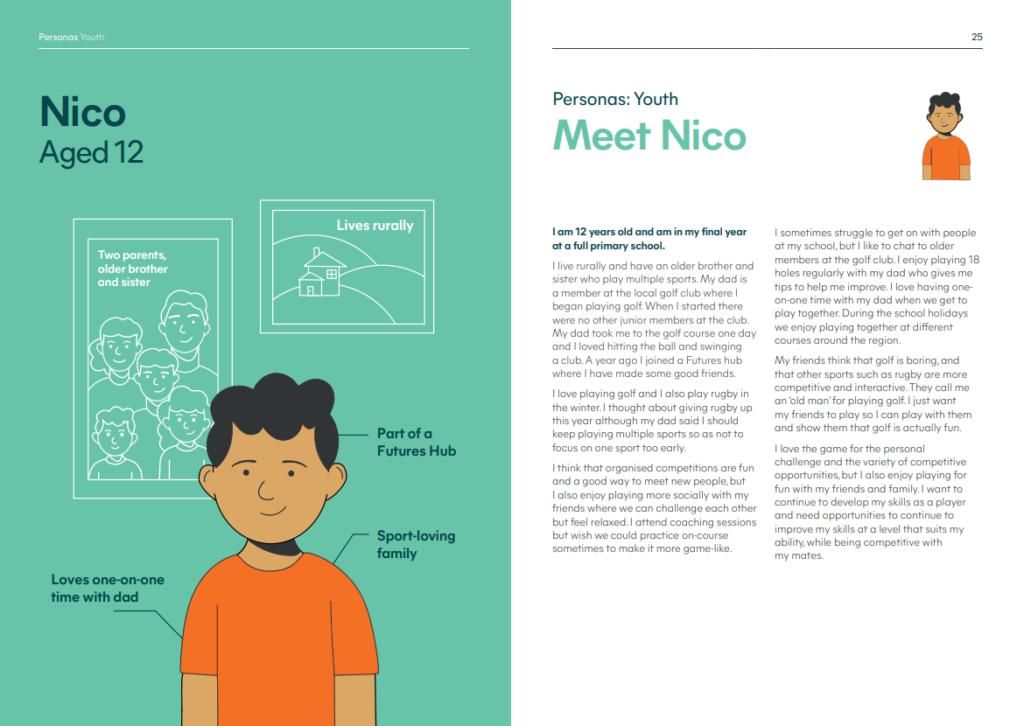 Why did Golf NZ begin the Golf for Life insights project?
Golf NZ wants more people to choose and value golf as a way to be physically active for life. To engage and retain more young people in golf, Golf NZ needed to better understand why young people choose to participate and recognise and respond to those needs. A key driver for the Golf for Life insights project was the recognition that there was limited information available to the golf sector to inform decision-making about how to best support young people to play golf.
Other factors that influence the project included:
Acknowledgment that any information needed to be presented in a compelling and creative way so that the message was not lost. Using story and illustrations to draw a connection and an emotional response from the end-user of the insights was important here.
The project needed to drive action, although awareness was the first step. Critical to this was establishing a conversation with the golf sector about the delivery of golf not being 'one-size-fits-all'. There are diverse participants, so the experiences of these participants should cater for that diversity.
Recognition that golf clubs should look for multiple sources of information to inform decision making. The Golf for Life resource is one source and should be accompanied with local intel.
Core messages from the Balance is Better philosophy, Sport NZ's Physical Literacy Approach and work in Play were also able to be integrated.
What has happened in the Golf for Life insights project?
The project was sequenced in the following milestones:
1 | Golf's value proposition was identified, which is, it's a game that can be played right across a person's life span. This was validated by data from Golf NZ members as well as Active NZ data.
2 | Life stages were identified and defined (Golf NZ landed on seven). Additionally, four guiding questions were developed to frame Golf NZ's insights gathering process:
What is the opportunity for golf at each life stage?
What do we know about each life stage?
What are some of key personas for each life stage and what are their motivations, barriers, needs and frustrations?
What are some practical actions that can support the engagement and retention of people at different life stages in golf?
3 | Evidence and data were gathered and reviewed. This included:
Review of international and national evidence, such as the Voice of the Participant survey data. User research focused on answering the following questions:
Who are golf participants and why are they playing golf?
What behaviors, assumptions, and expectations color their view of these participants' experience? 
What individual factors, personal relationships, social and cultural norms, physical environment, and policy factors drive their behaviour?
Conducting qualitative research, such as focus groups and one-on-one interviews. This sought a mix of views from various participants (e.g., young female, young male etc). Key questions asked of participants here included:
What are their motivations, barriers, preferences, expectations, drivers, and influencers?
What do they like about golf?
What do participants think and feel, see, hear, say, and do?
What are their pains and gains?
Drawing on other qualitative input, such as the LOVEGolf Stories campaign where participants got to share their own stories with Golf NZ.
4 | Personas were developed using the information collected above. The goal of personas is not to represent all audiences or address all needs but instead to focus on the major needs of the most important user groups. This was achieved through the theming of information.
5 | Personas were brought to life through illustration and story
The end result was the creation of the Golf For Life resource.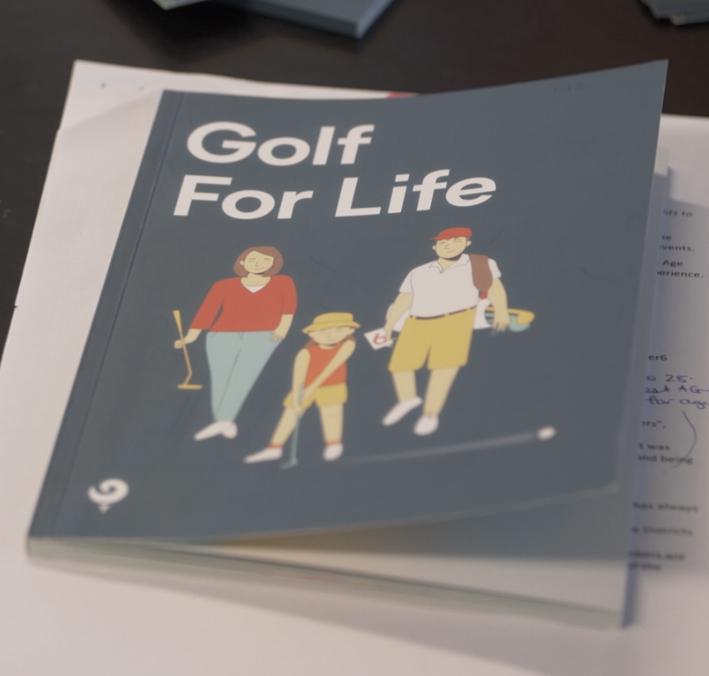 In addition, the resource can be broken down further into various life stage profiles, such as this one for Youth, with each life stage profile providing readers with some suggested actions for impact.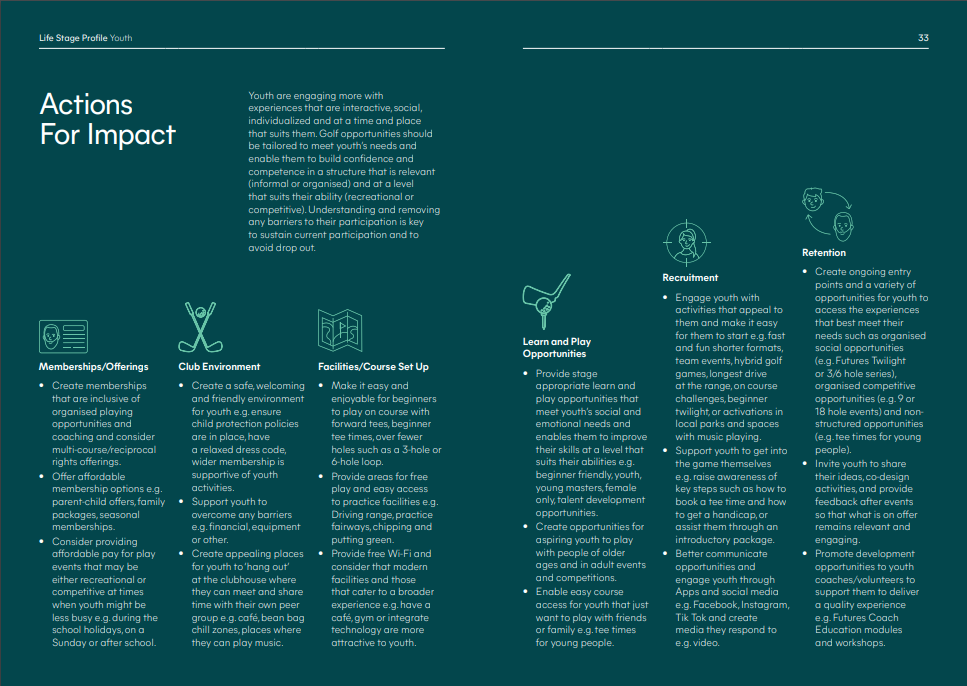 What tactics have Golf NZ used to communicate the messages and resource derived from the Golf for Life insights project?
Key ways in which these insights have been communicated to the sector include both digital and physical channels.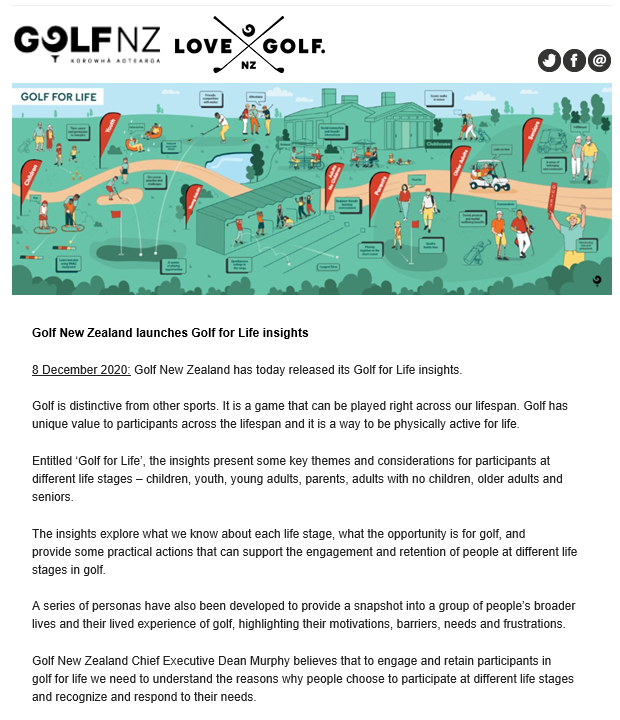 Golf NZ Facebook channels, including Facebook groups for the workforce, reaching key deliverers and administrators.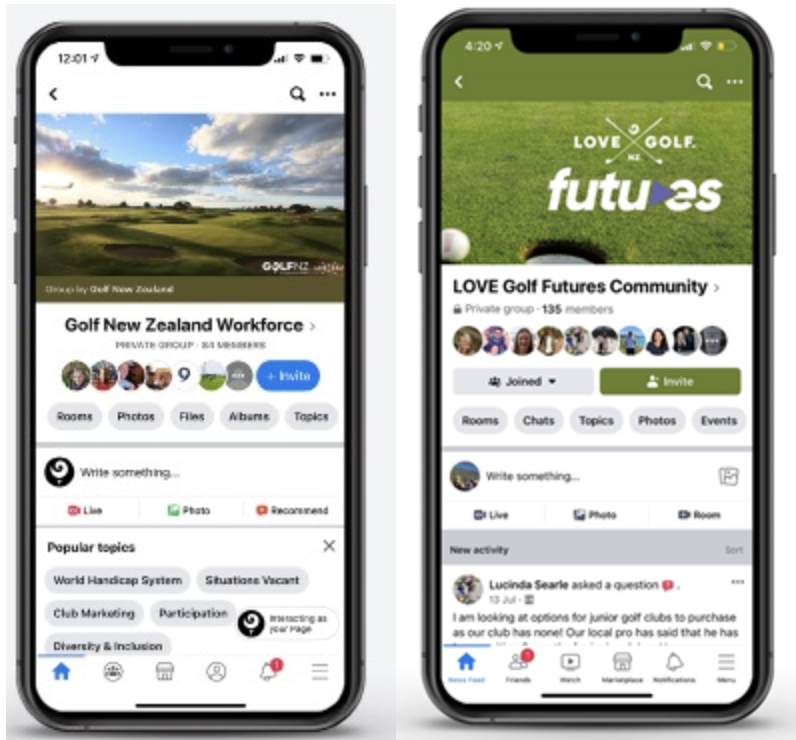 What has Golf NZ learned from the Golf for Life insights project so far?
Golf NZ has recognised that they need to do more to support clubs and other stakeholders to take the time to read the document. Having physical copies available and presenting the information through workshops is a key work on. Golf NZ is looking to address the challenge of the information and messages being crowded out online.
With regards to reviewing the project, critical success factors included:
Consider what types of information is captured. Golf NZ placed a huge importance on qualitative information, as it was the rich stories which would help support the telling of key messages into the golf sector.
Consider the approaches to collecting information. Golf NZ framed the collecting of information at a national level, regional level, and local level for capturing input. For Golf NZ this looked like:

National level – data was sourced from participants in the following ways:

Golf New Zealand channels i.e. social media, eDM (for LOVEGolf Stories campaign
Voice of the Participant Survey

Regional level – data was sourced from participants via:

District Associations i.e. Regional Futures Hubs (for Focus groups)

Local level – data was sourced from participants via:

for One-on-one interviews at clubs

Consider how you best communicate with stakeholders. With our approach to Balance is Better messaging we have learnt the importance of clear and engaging communication that resonates with people. We have used story (especially young people's stories) to ensure emotional connections are made in our communication. Having a strong case for change is also essential. Being able to clearly communicate key statistics on why we needed to change our approach with young people was important to hit home the state of play.
From the Golf for Life insights project, a number of personas for different life stages were created. How has Golf NZ used these personas to support its own work?
Golf NZ has been able to use the Golf for Life resource to start strategic conversations with districts and clubs about improving golf experiences for young people. Examples include:
Futures Auckland – an arrangement by a cluster of clubs to deliver an annual calendar of events across different golf courses and using different playing formats, catering for all skill levels. This shared model enables clubs to programme in time onto their courses for young people to play in organised events. This was in response to:
High demand for golf courses in Auckland meaning, novice and less skilled golfers are subjected to pressure from other golfers playing their rounds at a quicker rate (which can have an impact on confidence and perceived level of competence).
Recognition that social, shorter formats of the game needed to be provided for some young people, as well as the opportunity to play with friends and family.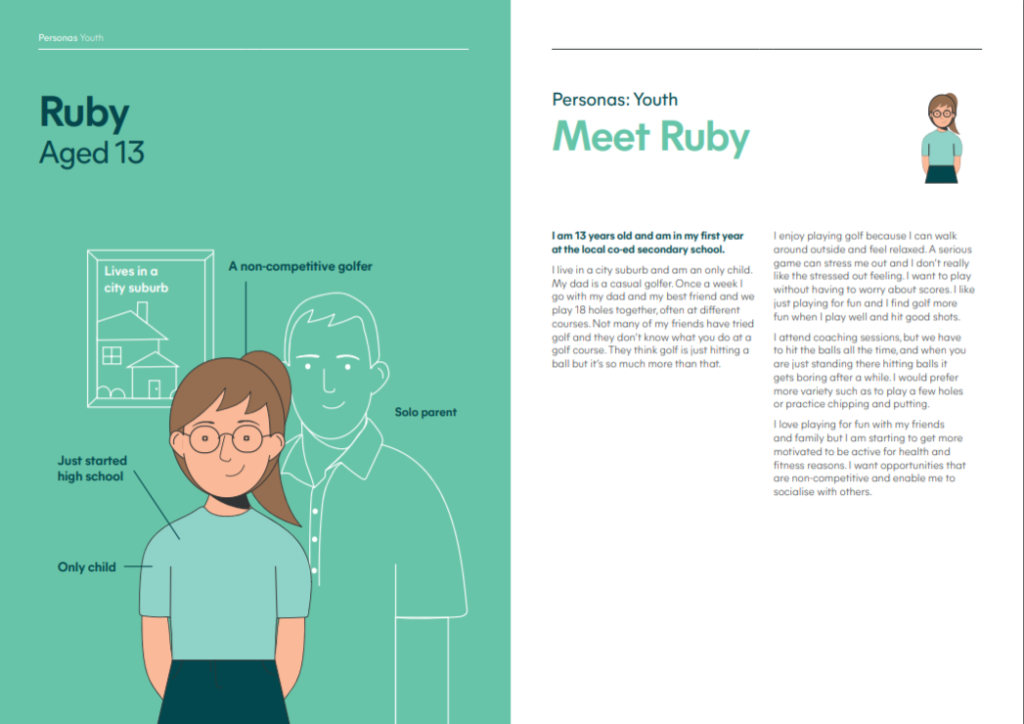 Futures Development Day, where young people are invited to attend development days across four areas in Manawatu-Wanganui, regardless of age or ability. This was in response to:
Recognition that only about one quarter of the approximately 400 golf clubs in New Zealand can access the services of a PGA qualified coach.
Many young people would like to access skill development opportunities.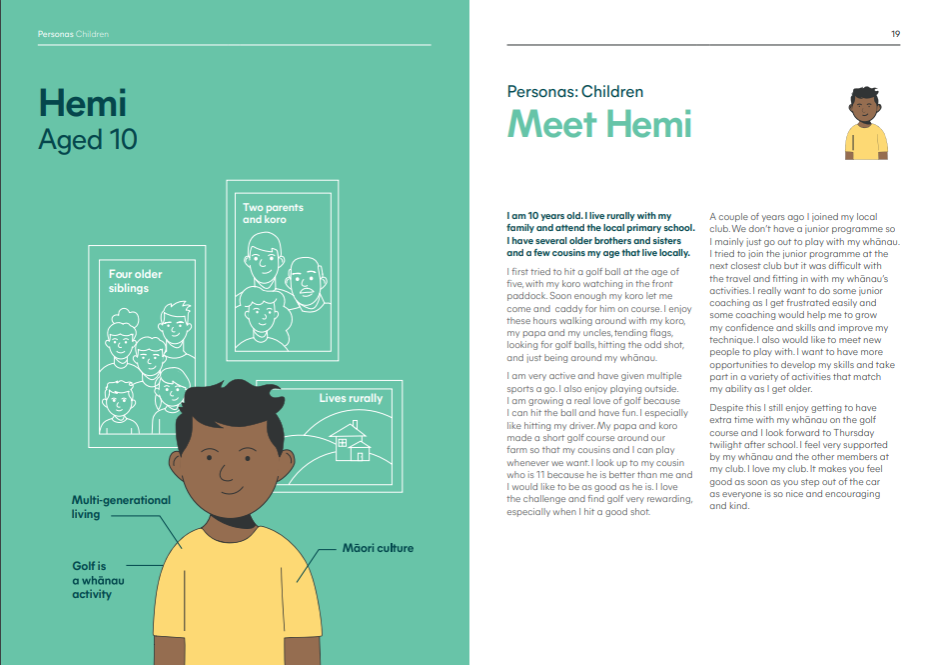 2021 Canterbury Golf Age Group Championships, which were aligned with Golf NZ recommendations developed out of Golf NZ's 2019 review of age group championships. This saw a capping of the championship format to those participants with a handicap of 28 or less, as well as the offering of 18 holes and 9 holes alongside the 36-hole championship. Underpinning this was the recognition that:
As per findings in the age group championship review, district age group experiences are an appropriate experience for participants with a handicap of 24-28 handicap or less, yet only 13% of juniors have a handicap of 24 or less.
Some young people drop out of golf due to the pressures associated with an over-emphasis on competition.
Some young people enjoy a structured and competitive format, but more importantly want to be able to play with their friends (who may have varying ability).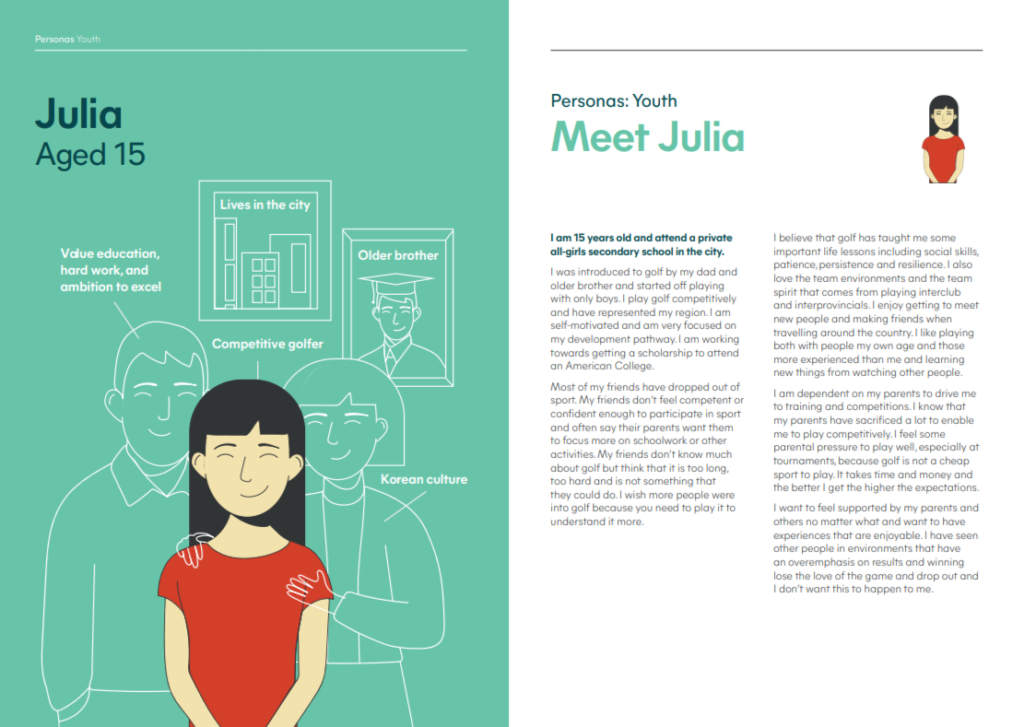 Summary
Click here for the full Golf For Life resource
Image Source: Canva