The Covid-19 pandemic has brought coaches into lockdown. For many, being able to coach, let alone remaining connected with their athletes, has been a new challenge.
It may be a number of weeks before we drop down through levels in order to see the sports context reach any sense of normality. Therefore, connecting with players remotely and becoming inventive with training scenarios will be a way of life for some time yet.
While many coaches will be using this time to develop themselves, those coaches wanting to continue to engage and support their athletes will need to embrace the digital tools at their disposal.
Here are some tips for you.
1. If you are new to this, be vulnerable. You are at the start of a new learning journey.
In her blog post, Brené Brown speaks for teachers, but I think it is just as relevant for coaches.
"It's all about and how hard it is to be new at things – from small things to global pandemics. When we have no relevant experience or expertise, the vulnerability, uncertainty, and fear of these firsts can be overwhelming. Yet, showing up and pushing ourselves past the awkward, learner stage is how we get braver."
2. Work out what tools you have at your disposal, and why and when to use them
While it is likely that many of you will not have used tools to coach at the "same time in a different location", you are probably already using a combination of some of the following tools to support coaching your athletes at a different time. Now with everyone in lock-down you may want to consider being able to provide coaching support at different times (pre-recorded videos anyone?).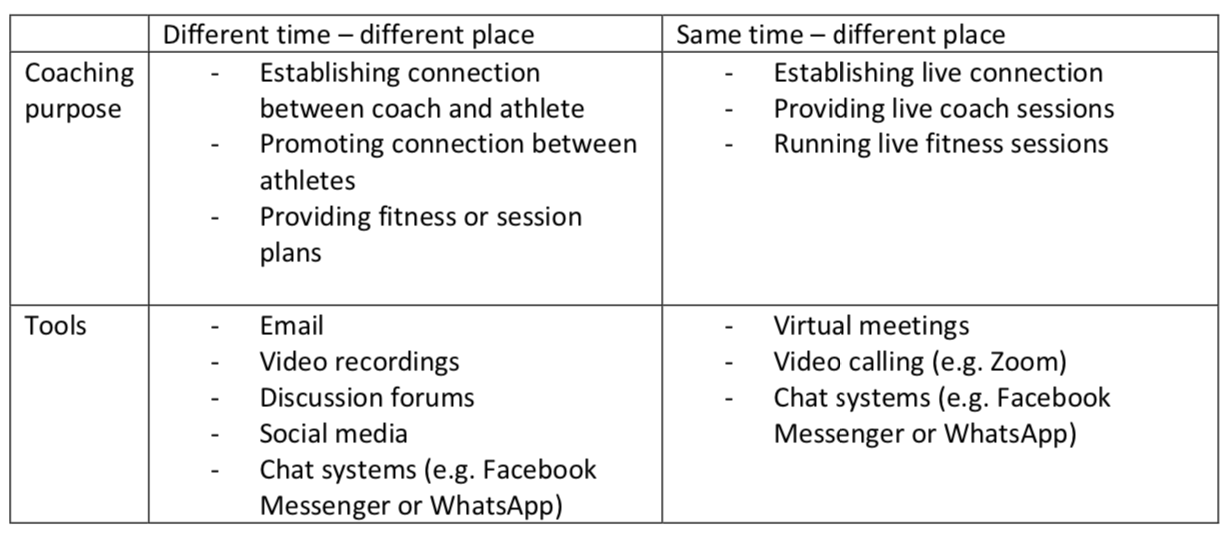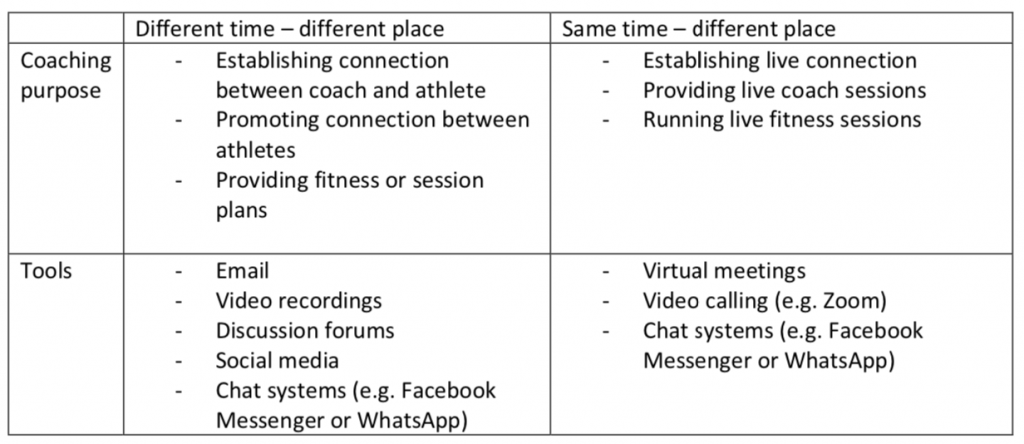 Importantly, don't dictate the medium. Work out what the right tools are for you and your athletes. It's likely you will need to utilise the tools young people already use.
3. Understand what being athlete-centered means in an online coaching context
In this Augmented Learning Podcast – successfully navigating an online or remote teaching workspace, Car Conliffe discusses with educator, Stephen McConnachie, challenges teachers face in teaching classrooms online. Many of the insights are relevant for coaches.
– Young people have access to different qualities of internet and technology at home
– Young people are at home, their home lives are potentially going to interweave (for example if they have responsibilities to look after siblings)
Remember you are not just coaching someone online, but you are coaching a young person in their home. In light of this, it's worth considering what other constraints you athletes may face that you may need to consider to best meet their individual needs
4. Leverage off and learn from fitness apps and virtual fitness sessions
Since Covid-19 there has been a proliferation of gym and fitness instructors going online. Les Mills has even partnered with TVNZ to provide online classes. Consider using this time as an opportunity to experiment with the use of different fitness apps and plans for your athletes. Participate in a virtual fitness session and take note of what good fitness instructors do to run an engaging virtual session.
5. Check in on your code
It's been awesome looking at the innovation that different sport codes have been applying to support their members during Covid-19. Here are just a few examples:
6. Have fun
We've heard many innovative examples from coaches using digital technology to bring fun to their athletes. From skill sessions and challenges, to live guitar jams, to quizzes. Make sure you remember to plug in some time to just have fun with your athletes.
Image Source: Unsplash