Manawatu Cricket delivers a girls-only cricket competition, held on Wednesday after school in Palmerston North. Open to all secondary school girls, but particularly targeted at year 9 and 10 students, the competition began in term 1 2019.
One match each week
All games at one, central location – girls all play on fields next to each other
10 a-side, 16 over game, hard ball
Girls only
Bat in pairs, everyone bowls and everyone bats
Built on the popularity of festival days
The opportunity
While Manawatu Cricket were working hard to establish an U15 girls representative side for a tournament they were hosting, they identified there was a need to provide more youth girls with an opportunity to try cricket and also the need to develop skills of young female cricketers. There were various cricket festival days which were popular, and these could be expanded and used as a channel to engage girls in more regular cricket.
'We were very mindful that girls like to play together and we wanted our wahine to have a safe place to try something new'

Amy Johnson, Manawatu Cricket: Women's Community Cricket Coordinator
The idea of a mid-week competition was floated with various schools, while many schools were intrigued, most stated they didn't have any girls that would be interested. Manawatu Cricket saw this as an opportunity to challenge schools on their thinking.
Getting started
Alongside the existing cricket festival days throughout term 4 2018, Manawatu Cricket worked with schools to build interest in cricket through the following:
Ran taster sessions in school PE classes
Supporting schools to find coaches for their teams
Established the midweek competition with no entry costs for girls or the school
Provided training to schools for CricHQ
It was a dedicated and conscious effort, which required a lot of hard work and a consistent presence at schools, particularly focusing on year 9 and 10 students.
A combination of the enjoyment of participating at festival days, and the new presence of cricket in their schools helped schools begin to form teams for the mid-week competition.
This was largely a result of Manawatu Cricket working hard to generate demand from the girls, which made schools more willing to get involved.
The competition officially begun in term 1 2019.
'Girls enjoyed festivals days so much, they wanted to join up as a team in a proper competition'

Amy Johnson, Manawatu Cricket: Women's Community Cricket Coordinator
Creating a cricket culture
A key aspect to the competition is that all matches are played at the same location. This generates a social atmosphere – somewhere girls want to be with their friends. All the peripheral aspects have a huge impact on the building this atmosphere – the van ride from school, music, prizes, meeting new people, making Tiktoks – the girls enjoy these aspects just as much as they enjoy the cricket.
Another key aspect of the cricket culture is the school rivalries that have been established, creating healthy, social competition amongst the teams.
'It is the music, the atmosphere, the environment that we create for the girls that keeps them coming back Amy

Johnson, Manawatu Cricket: Women's Community Cricket Coordinator
In addition to the girls playing, Manawatu Cricket has also placed an emphasis on developing coaches and scorers through the NZC system. This supports the continual growth and development of cricket to benefit this competition and other cricket in the region.
Results so far
Participation has increased quickly in the short time the competition has been running, with the competition close to doubling in size within one year:

Manawatu Cricket now has over 100 registered secondary school female cricketers, which is triple the number it had just 12 months ago.
Below outlines the distribution of registered teams from schools in Palmerston North for the most recent three terms of the competition. As illustrated below, once a school is engaged, their participation either stays constant or increases. No school has dropped out of the competition once they join.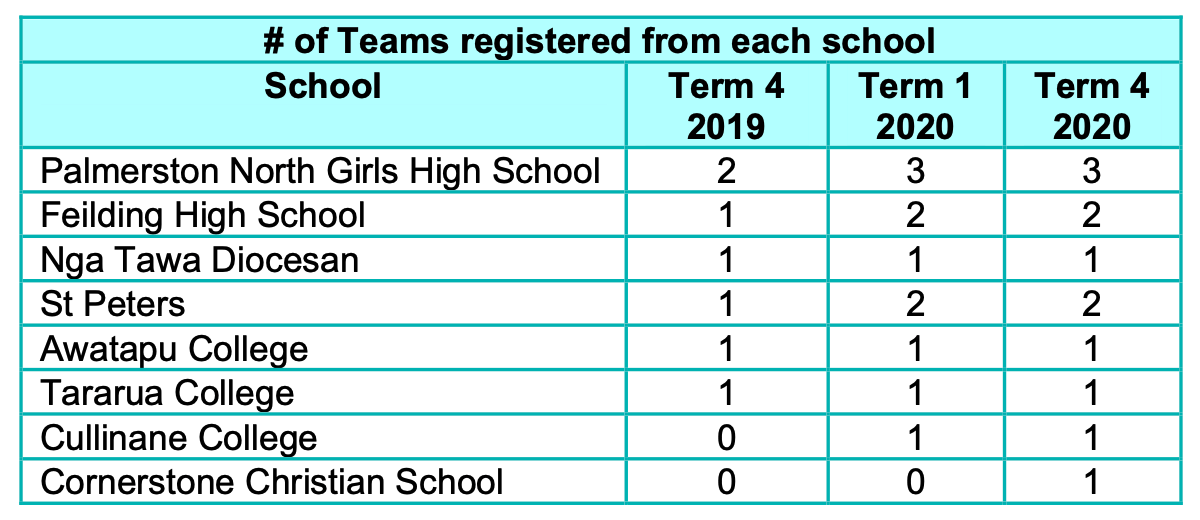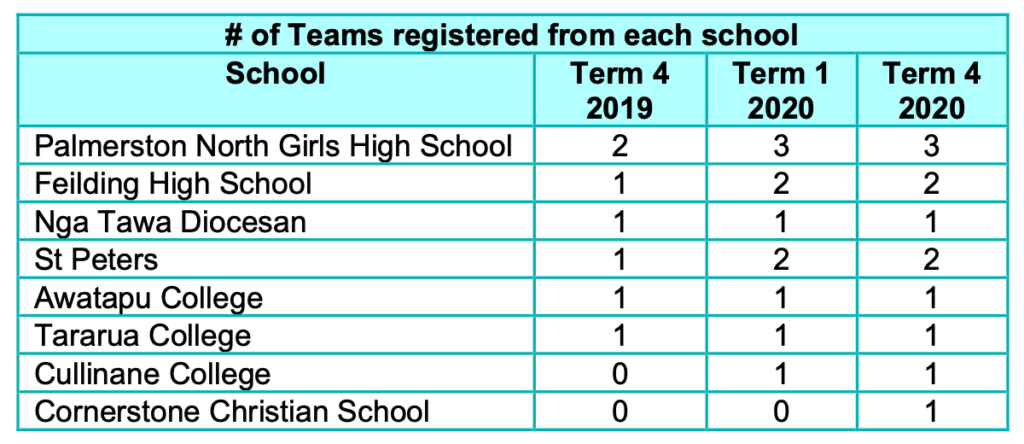 Manawatu Cricket are also expecting four new schools to join the competition in term 1 2021, including; Whanganui Collegiate, Freyberg High School, Queen Elizabeth College and Waiopehu College. These schools are from outside of the region, but in close enough proximity to travel, highlighting the popularity of the competition.
Alongside the participation in the mid-week competition, Manawatu Cricket has also experienced other tangible benefits;
Increase in the number of girls interested in joining women's club teams, skill clinics and holiday programmes

More girls are trialing for development and representative pathway teams.
Historically, Manawatu Cricket has struggled to maintain x1 year 9 and 10 age group team (previously known as U15), now they have x2 teams plus additional players outside of this group.

The mid-week competition has provided the 'next step' in the female pathway, ensuring girls involved in the 'MCA Girls Club' have a place to play cricket when they arrive at secondary school.
Providing a safe, girls-only space for girls to be active and share experiences. As a result, there is a ground swell and more girls are wanting to come and play.
This competition format has generated interest in some girls for further development in cricket.
Knowing that they are building players for life.
'Cricket is now on the agenda for a lot of schools in the Manawatu'

Amy Johnson, Manawatu Cricket: Women's Community Cricket Coordinator
Evolving the competition
Manawatu Cricket is determined to grow the competition and continue to engage young females in cricket. Some of the key ideas to evolve the competition include;
Have already moved the competition to a larger, more visible ground to better cater for the number of teams
Have established home and away rounds to give each school the opportunity to host in their home location and build pride for their teams
Have introduced a cost to enter a team of $250 – this helps create a sense of value for money and improved level of commitment from the girls
Looking to split the competition into two divisions to promote skill development. This would ensure girls at different levels are engaged, and challenges/extends girls at differing levels to keep them progressing

Top division would play a more traditional format with fielding restrictions and a 6 ball grace period
Second division would continue to play the current format

Understanding the importance of having both an entry level and a chance to progress and develop within each age group.
Image Source: Canva