Golf New Zealand has relied on a magic formula to navigate challenges, pairing their junior and youth participation approach with the Good Sports® programme.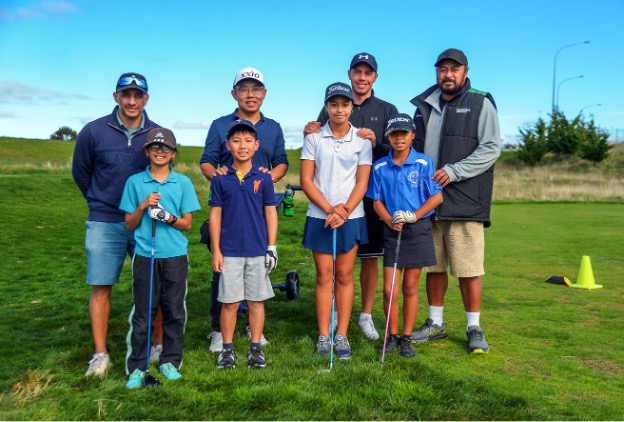 Introduction
Golf NZ Futures is about creating quality experiences for young people aged 5-18. It focuses on creating a lifelong love of the game by providing opportunities for young people to learn at their own pace, meet new friends and have opportunities to learn and play together with their families.
Prior to launching Futures in 2018, Golf NZ's U19 membership had been declining five percent every year (the equivalent of 330 participants) for the previous eight years. The new approach has reversed this trend, however Golf NZ has turned to Good Sports to capitalise on the important role parents and whānau play in supporting young peoples' golfing experiences.
The Golf NZ Futures provided the structure for change, with Good Sports becoming the tool that helps parents understand what quality experiences look like and how their behaviors can support that experience.
"Quality experiences rely on parents and coaches, who can inspire a lifelong love of the game. It's about young people and their development," says Golf NZ regional support manager Richard Hudson.
"What Good Sports has done is provide us with tools and resources to have better conversations when supporting parents and coaches."
What is Good Sports and how has it strengthened Golf NZ's Futures approach?
Good Sports is an individual behaviour change initiative aiming to create positive sporting experiences for children by educating and supporting the key adult influencers in youth sport – in particular, parents. Well aligned to Balance is Better, it recognises that supporting and educating adults is crucial to ensure Kiwi kids have the best chance of having positive sporting experiences and ultimately growing a lifelong love of sport.
"We needed to leverage the power of parents and their ability to influence positive outcomes and engagement," Liz McKinnon, Talent & Coach Development Officer at Golf NZ. "What we know from Good Sports is that it doesn't matter their age. That positive climate of development is critical, whether they're new to the game or aspiring to be a future champion."
In this way, Good Sports has become a key instrument in helping shift perceptions of parents and whānau and grow the positive profile of golf as a sport of choice for young people and their families.
This has taken shape through a number of national, regional and local initiatives:
Canterbury Golf adopting Good Sports messaging to parents in welcome and talent development documents
Workshops to upskill Golf NZ staff on Good Sports
Introducing a whānau-centric approach to how golf opportunities are delivered
Local coach and volunteer workshop delivered across the country, focusing on fun and positive experiences aligned with Good Sports and Balance is Better
What Good Sports activities have been delivered and what outcomes have they produced?
Internal workshops and scenario building
Golf NZ brought staff on the Good Sports journey from the start, introducing Simone Spencer from Aktive to lead a Good Sports workshop with the team followed by sending two key Golf NZ staff to the National Good Sports Leads residential delivered by Sport NZ and Aktive . They worked through scenarios specific to golf that challenged their belief systems and thinking which built understanding of the value of Good Sports and ultimately led to communications becoming a key focus to achieve consistency across messaging nationally.
"We looked at how we can communicate better through events and social media to parents," says McKinnon, "to ensure we have consistency of messaging and imagery across our national, regional and hub platforms." There are currently eleven active Futures hubs comprised of 96 participating clubs and facilities who are working together in regional clusters from Auckland in the north to Southland in the south.
Stocktakes
Following these workshops, Golf NZ undertook a stocktake where they examined opportunities to drive Good Sports messaging and imagery across e-mails and event communications, social media, collateral (posters, flyers, etc.) and events, using this framework:
| | | | | | |
| --- | --- | --- | --- | --- | --- |
| Area of focus | Current state | Future state | Actions required | People involved | Expected completion |
This led to a greater focus on Good Sports messaging distributed in pre-event communications, and proactive event-day behaviours by deliverers that reinforced this messaging.
Consistency
Simple, consistent messaging across all parent channels is starting to have a positive impact on what Futures and Good Sports is all about and reinforcing positive parent behaviour.
Over the past 18 months, Golf NZ has further strengthened its ability to extend the reach of Good Sports and the wider Balance Is Better philosophy through a district partnership approach. Since 2019, Golf NZ and districts have partnered with golf clubs to establish Futures Hubs which encourage clubs to work together to create regular and affordable opportunities for young people to learn and play golf- significantly expanding their reach.
Conversation Starters
Canterbury Golf incorporated Good Sports into its on-boarding process, outlining the role parents play in creating great opportunities as part of the information distributed in their Futures welcome packs for hub members. This provided a great way to introduce Good Sports to parents and encourage them to find out what is important to kids as part of the overall Futures approach.
Through Good Sports, Golf NZ has enhanced its offerings of whānau-centric events and experiences, which include Futures Festivals and Family Team Golf. These Futures opportunities have been enriched by Good Sports as a tool to support parent engagement and understanding.
Thanks to Good Sports, Golf NZ Futures has grown from strength to strength. "It's growing and constantly connecting the voice of the parents," says McKinnon. "We have lots of evidence that tamariki are enjoying it too. Pretty soon there's not going to be a region that's not strongly on board with it."
Given some of the challenges in children's sport stem from adult involvement, Golf NZ has been honest about what parents can do differently, to ensure children and young people are enjoying the game.
"It is important that we started by looking at scenarios that challenged their deeper belief systems and thinking," McKinnon points out. "We are seeing messaging to players and parents that is consistent and is setting an inclusive and welcoming environment for young people and their families. These seem like small steps but go a long way to achieving positive outcomes for young people, their families and our communities."
"Before Good Sports, we felt there wasn't strong leadership from Golf NZ about how our regional leads could be having conversations with parents and coaches but through Good Sports, we have that leadership to go out and support people with."
Learnings that may be useful for other organisations?
Integrating Good Sports with its Futures has been key for Golf NZ. Some of the key learnings from their Good Sports journey so far have been:
Be clear on where Good Sports can support. Be clear on the vision and objectives, articulating set goals and sharing these with stakeholders.
Be consistent. Apply simple, consistent messaging across all channels of communication with parents. Change the perception and grow the positive profile of golf as a sport of choice for young people and families.
Regional support. Develop a skilled and passionate workforce of coaches, administrators and volunteers who understand the wants and needs of young people and who can engage with parents.
Grow parents' understanding of different forms of the game. Create opportunities for young people to participate either recreationally or competitively in a way that meets their level of aspiration.