For every aspirational athlete, there comes a time, when the pursuit of excellence clashes with the maintenance of their own well-being.
Not being aware of this (and having strategies to manage) can be a recipe for ill-health and diminishing performance.
Many readers will be familiar with player load management, rotation policies and sabbaticals, as tactics to manage the conflict between sustained athletic performance and athlete wellbeing.
But what about managing this tension in the context of youth sport?
Where, compared to high-performance sport
There are fewer resources (on a per individual basis)
The demands on individual athletes come from more sources, creating greater complexity
Costs to wellbeing need to be weighed against performance, as well as other definitions of success in sport
Before we go any further, it's important to highlight, that we know quality sport, in the right dose, enables a variety of benefits for young people (including wellbeing benefits).
That being said, we believe (and hope that you do too), that athletic development and performance should not be at the expense of young people's overall wellbeing.
This is why one of the key principles of Balance is Better is…
Balance getting better with doing too much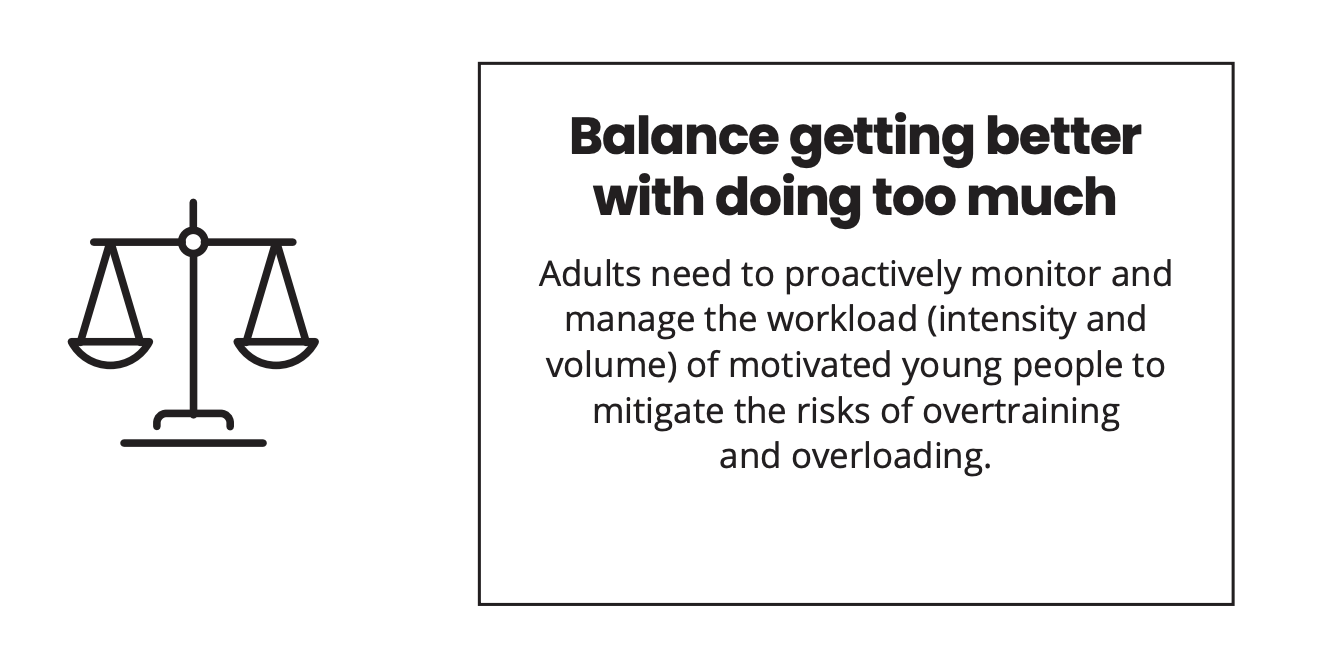 So what does balancing getting better with doing too much look like in practice?
For administrators who lead sport,
Consider (if you haven't already got it) specific guidance, policy or education around training and competition loads for young people at different ages and stages. Often this conversation needs to go hand in hand with reviewing competition calendars and scheduling, as these are one of teh larger drivers around behaviours on loading.
Education for your communities (particularly coach education and parent education) on how to recognise signs of overuse and burnout in adolescent athletes.
Develop guidance and education for your community on what good rest and recovery looks like for young people playing your sport.
Read: A practical guide for monitoring athlete training and competition load
For clubs and schools,
Initiate joined up conversations with all the adult stakeholders (parents, coaches, trainers, etc.) who are supporting an adolescent athlete that has a high training and competition load.
In enrolment / membership processes, insert a standard question that solicits information from athletes about other sports/activities etc. Make sure to share this information with the athlete's coach.
| | | |
| --- | --- | --- |
| Other sport/activities/commitments? | Hours per week training/competing/doing | Important dates/windows to be aware of (e.g. key competitions/events/tournamanets) |
| | | |
For coaches,
At the beginning of each season, map out what other commitments your athletes have.
For athletes that you think might be at risk of overload or overtraining due to participating in multiple sports at the same time / playing for multiple teams etc, initiate joint up conversations with respective coaches to establish strategies to support the said athlete's wellbeing. This could include tactics such as rest and rotation protocols, as well as decreasing expectations on attendance at training, or the intensity that an athlete trains.
Read: Physio talk: what parents and coaches need to know about early specialisation and overtraining?
For parents,
Learn about the signs of overtraining, overuse and burnout
If you think your child as at risk of overtraining, initiate a conversation with their coach/es. This is especially key when your child has multiple coach/es and trainers inputting into their athlete load. We find often when a young person has multiple coaches, each coach is unlikely to have a holistic view of all the demands being placed on that young person.
Read: 7 games in 9 days! Navigating (crazy) athlete schedules
Image Source: RBFried from Getty Images Signature